Car hire is a viable alternative to hiring a taxi; in view that your accommodation is approximately 45mins from the airport you will more likely find that the cost of hiring a car for a week compares favourably with the cost of two taxi journeys. You can arrange transfer with Malaga Airport Taxi online or, e-mail: info@malagacar.com for a quote. However, hiring a car will also provide the added benefit of being able to use the car during your stay. This would be invaluable for trips to the supermarket, sightseeing, visits to the beach, etc.

Car hire is relatively cheap in Spain and you will almost certainly get a better rate by going to a small local firm rather than using one of the well-known international hire-car agencies. Many local Spanish car-hire firms offer an airport pick-up and drop-off facility. The Internet is a good place to find local firms. Go to your favourite search engine (for example www.altavista.com) and type in the name of your arrival airport and the words "car hire". So if you are flying to Alicante type in "Alicante car hire" and hit the search button. Alternatively there is excellent online yellow page for Spain at www.paginasamarillas.es. Although in Spanish it is relatively self-explanatory even if you dont speak the language. Alquiler de coches is the Spanish for car hire. Simply type this into the "Actividad, producto o marca" box and type your arrival airport (or nearest town) into the "Localidad" box, then hit the Buscar (search) button.
The major international Car rental companies have offices in most Andalucian cities and at the major airports such as Malaga Airport. However the smaller local car rental companies tend to be less expensive. You may be approached at airports by representatives of local car hire companies, most of whom are reputable. If you're a visitor, it's advisable to reserve a rental car before arriving, particularly during peak periods.

More visitors rent cars in Spain than any other European country and a hefty percentage of these are in Andalucia. Car rental in Spain is the cheapest in Europe due to the strong competition.

When comparing rates, check that prices are fully inclusive of insurance and taxes. Standard Insurance cover does not usually cover the first 250 Euros of any damage. Check insurance cover for young drivers under 25.

Policy on payment for petrol varies - check the small print. Most issue cars with a full/half/empty tank and ask you to return the car the same. Others charge for a full tank and do not credit you when the car is not returned empty.

This is often prohibited to take the car to Portugal or France and almost certainly prohibited to take the car to Morocco.

To rent a car in Spain you must produce a valid licence (a copy is not acceptable). If more than one person will be driving, all the drivers' names must be included on the rental agreement.

Lastly check the car on collection for damage, record with digital camera if unsure whether to officially record minor damages on the contract. All (hire) cars are required by law to carry two warning triangles in the luggage compartment and two yellow vests in the glove compartment. Ensure these are present on collection.

We have listed a few Car hire company's on the Costa del Sol that you may wish to have a look at:
Car hire & on line bookings:

Autolink Malaga Car hire
Autolink/Ramagura S.L.
Pasaje de Genil, Torremuelle, Benalmadena
Calle San Isidro 20, Malaga airport
Tel: +34 952 560 204
Fax: +34 952 24 58 10
E-mail: rent@autolink.info
Web site: http://www.autolink.info/
Scandinavian company with full car service at Malaga airport. Car rentals and airport parking facility
We are located at Malaga airport and offer car rentals and airport parking facility for customers on the Costa del Sol in Spain. We meet you in the arrival hall and you return the car opposite the Departure hall when you rent from us.
Crown Car Hire Malaga (located at Malaga airport)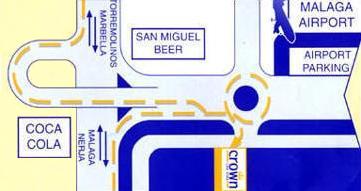 Malaga Airport
Avda. Garcia Morato, 34
Malaga - 29004
Tel: + 34 952 17 64 86
Fax: + 34 952 24 25 37
Email: http://www.aurigacrown.com/contactar.jsp
Web site: http://www.aurigacrown.com
A leader in the provision of quality car hire across Andalucia - unlimited mileage and large selection.

Helle Hollis Car Rental
Avda. Garcia Morato nš 14-18

E-29004 Malaga
Spain
Tel: (+34) 95 224 55 44
Fax: (+34) 95 224 51 86
E-mail: bookings@hellehollis.com
Web site: http://www.hellehollis.com/
Helle Hollis car rental is based in Malaga airport in southern Spain and provides car rental and hire services throughout the Costa del Sol, Andalucia with the Head Office at Malaga airport.

Niza Car hire Malaga (free delivery/collection at Malaga airport)
MAIN OFFICE
Avda. Garcia Morato, 44
29004 MaLAGA
Tel: +34 952 236179 / 84
E-mail: reservas@nizacars.es
Web site: http://www.nizacars.es/
Other local firms:
No 1 Rent a Car Tel: 087 060 090 90
Sur rent Tel: +34 952 170 605
Global Car hire Malaga competitive prices Tel: +34 952 105 110
Limitation of liability
We try to ensure the accuracy of all content, however, we do not accept any liability for use made by you of the content. The content of the Site should only be used for information purposes. It is not advice and you should not rely on it to make (or refrain from making) any decision or take (or refrain from taking) any action. See full Website www.villasdirect-spain.co.uk Terms and conditions.
Happy travelling Villa Amarilla awaits your arrival!